About Us
Tata Genuine Parts - Delivering Quality and Reliability to Tata Motors commercial vehicles in India
Tata Motors, one of India's leading automobile manufacturers, has always been known for producing durable and reliable vehicles. To maintain this reputation, the company has established Tata Genuine Parts, which provides original equipment manufacturer (OEM) parts to its customers. The parts are designed and manufactured to meet the exacting standards of Tata Motors, ensuring that the vehicles perform optimally and last longer.
Tata Genuine Parts Footprint
Our Warehouses
TATA Genuine Parts has dedicated Warehouses that deal with the storage and delivery of spare parts across the length and breadth of the country. These warehouses boast of strong supply chains that catalyse the shipment process.
Five strategically located warehouses cover the Five cardinal points of the country, present at
Palwal
Tata Motors Ltd., C/o MJ Logistics Services Ltd., Opp. Delhi Public School Village: Aurangabad, Tehsil: Hodal, Dist.: Palwal, Haryana - 12105
Kolkata
Tata Motors Ltd., Spare Parts Division, RWH (E), CVBU, C/o NDR Warehousing Pvt. Ltd., Raghudevpur (E), NH 6, Panchla, PO Raghudevpur, PS: Uluberia, Dist.: Howrah, West Bengal - 711322
Pune
Tata Motors Ltd., Plot No. 338/1, Mahalunge Village, Chakan MIDC, Behind Bajaj Auto Ltd., Taluka: Khed, Dist.: Pune - 410501
Bengaluru
Tata Motors Ltd., 32/1 Biritena Agraha, NH 7, Hosur Road, Singasandara, Post: Bengaluru, Karnataka - 560
Nagpur
Tata Motors Ltd., Orange City Logistics Park, Khasara No. 80, 81 & 82, Shivmadka, Village: Gumgaon, Tehsil: Hingna, Dist.: Nagpur – 441122, Maharashtra
Tata Genuine Parts Store Locator
How to Identify Tata Genuine Parts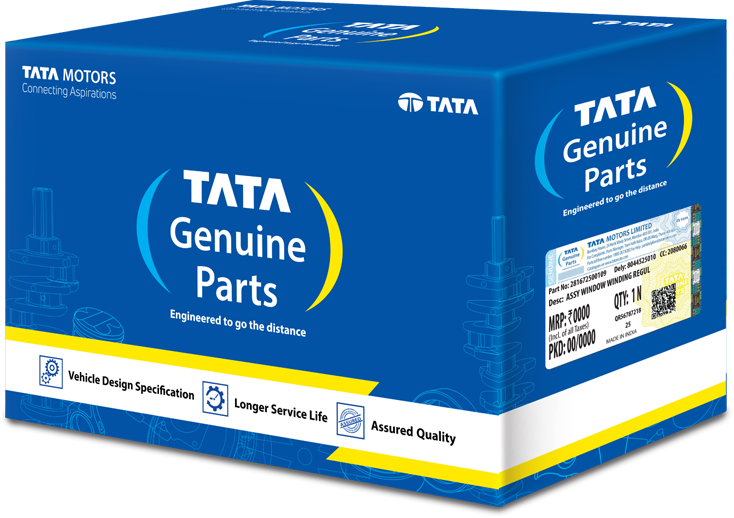 Prominence given to TATA logo
A special helpline for Tata Gurus, who can get required technical assistance and support by calling on the number provided.
1800 267 8282
TGP's digital catalogue consisting of detailed information of all the products.